Information You Need to Know
Before Your Retina Checkup
We accept almost all plans offered by the major commercial insurance companies (including Aetna, Blue Cross Blue Shield, Cigna, Humana, UnitedHealth), all plans accepted by the Memorial Hermann Physician Network and most healthcare exchange marketplace plans. Note that some plans (usually HMOs) require a referral from your primary care provider; our office will facilitate obtaining such a referral by calling your primary care physician's office if you have provided us with your current insurance information at the time of booking your appointment. Our insurance verification specialist will also contact your insurance to request pre-authorization for all services that require it. Note that deductibles and copays have to be collected at the time of your visit.
MEDICARE & MEDICARE ADVANTAGE PLANS:
We accept traditional Medicare and the vast majority of Medicare Advantage plans. Note that some Medicare Advantage plans require pre-authorization for procedures (including intravitreal injections and surgery) so that sometimes a second appointment is necessary to allow time to obtain such pre-authorization. Pre-authorization has typically been obtained prior to your follow-up appointments.
MEDICAID & COMMERCIALLY MANAGED MEDICAID PLANS:
We accept traditional Medicaid and some commercially managed Medicaid plans. We recommend you check with our insurance verification specialist or your insurance company to ascertain that we accept your insurance as there are a few commercially managed Medicaid plans that we do not accept.
We believe that practicing medicine ethically includes considering the patient's financial situation. We will work with you so that you get excellent value without undue financial burden to the measure possible.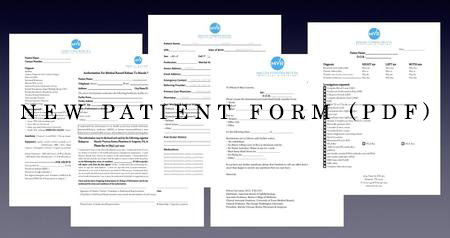 New Patient data may be completed directly on Macula Vitreous Retina Physicians & Surgeons electronic medical record through the patient portal if you have Chrome or Mozilla Firefox. Our receptionist can enable your access to the patient portal and send an email with your initial password. The patient portal will also allow you access to your clinic notes. A PDF copy of the New Patient Information Form can be downloaded by clicking below. 
RELEASE OF MEDICAL RECORDS TO MVR-PS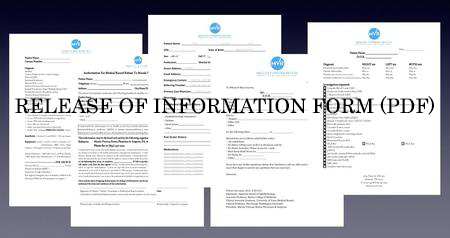 A signed document requesting your medical records to be transferred to Macula Vitreous Retina Physicians & Surgeons, PA must be submitted to the facility/practice where you were previously seen if you wish to make available these records to our practice. Note that it can take up to 3 weeks for a practice to send records. It is especially valuable to have access to your outside records if you have had previous surgery, intravitreal injections or treatment for uveitis (inflammation in the eye). Click below for a form to request release of outside medical records to MVR-PS: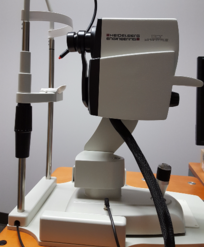 Spectral Domain Optical Coherence Tomography (SD-OCT):
Our practice has the Heidelberg Spectralis OCT 2, the latest SD-OCT that can take 70,000 scans of the retina per second and process these to produce a cross-section of the retina. An invaluable tool for the diagnosis and evaluation of treatment response in wet age-related macular degeneration, diabetic macular edema, macular edema related to retinal vein occlusion, following cataract surgery or with uveitis as well as macular holes and epiretinal membranes. The Spectralis OCT 2 can take pictures of the exact same area each visit to allow direct comparisons with the prior visit.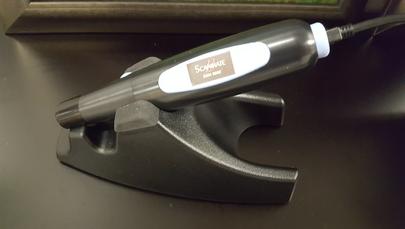 Fundus Autofluorescence (FAF):
Our practice has the Heidelberg Spectralis HRA with FAF capability. FAF is useful in the early diagnosis of macular telangiectasia type 2, a condition sometimes misdiagnosed for age-related macular degeneration. FAF is also useful for screening for hydroxychloroquine (plaquenil) toxicity. FAF is also useful in better demonstrating the changes that occur in dry age-related macular degeneration and in the diagnosis and monitoring of treatment for posterior uveitis.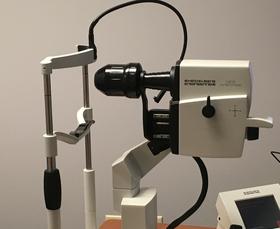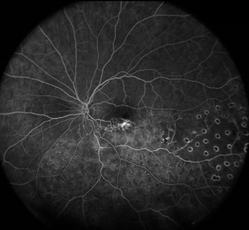 Ultra-wide field infrared photography and angiography:
Our practice has the Heidelberg Spectralis Ultrawide-Field Infrared and Angiography camera. With this equipment we can study regions of the peripheral retina following injection of fluorescein and/or indocyanine green dyes through a vein. This shows abnormal vessels in the retina, patterns of vessels in a tumor or areas where there is poor circulation in the peripheral retina. A useful tool for patients with diabetic retinopathy, retinal vein occlusion, peripheral retinal neovascularization, peripheral posterior segment tumors, retinal vasculitis, posterior uveitis etc.
The reason you should choose us is the superb level of service that we offer (see 'Why Choose Us' Section), not the convenience of our location or the beautiful design of our office. Nonetheless, our office is conveniently located in Suite 560 (5th floor) of the Houston Medical Center Plaza, in the Texas Medical Center a location that can easily be accessed from all the major freeways avoiding the worse of Houston's Medical Center traffic. Valet parking and paid self-parking are available although it should be noted that the garage has narrow spaces- patients with larger trucks may consider using Texas Medical Center Parking Garage 1 which is 5 minutes walk or the parking garage of Baylor College of Medicine. The facility is also within walking distance of the METRORAIL Red Line Dryden/TMC station and the drop-off of buses to the medical center from the Woodlands and Fort Bend county.
Dr. Carvounis designed the office space adopting a patient-centered approach: there are extensive open spaces designed to make patients feel welcome and comfortable. There is a good selection of current magazines and a TV (on mute playing nature documentaries) and original art on the walls to allow patients to relax as they wait to dilate and go through any testing required. The layout of the rooms is designed to minimize the steps patients have to take during their visit, an important consideration for our patients with mobility difficulties. The imaging room has current, top-of-the-line equipment to facilitate diagnosis and monitoring of progress with treatment. The exam lanes are equipped with Swiss-made Haag-Streit slitlamps and Keeler Indirect ophthalmoscopes.  We endeavor for patients to receive a consultation and/or have their procedure completed within under 60 minutes of arrival, although delays are sometimes inevitable in a busy medical practice.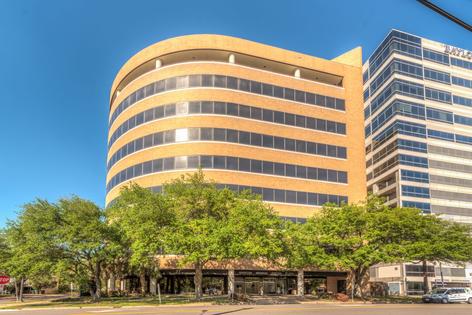 Our office is in suite 560 of the Houston Medical Center Plaza, which is adjacent to the main Baylor Clinic Building and the Hilton Hotel. We have spectacular views of Houston towards the Galleria and Greenway Plaza.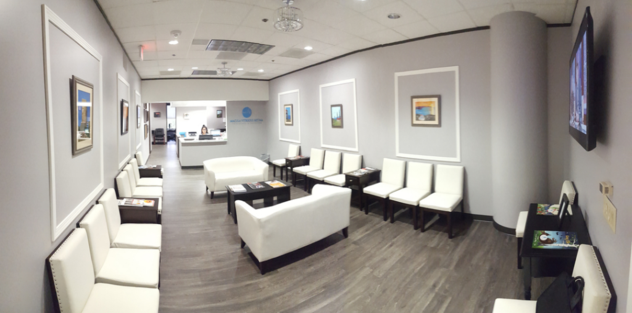 This is our spacious waiting area. If you have not completed the New Patient Forms this is where you will fill these out before the technician takes you to check the vision, eye pressure and dilate your eyes. The art on the walls is by Dr. Carvounis' father, also a practicing ophthalmologist.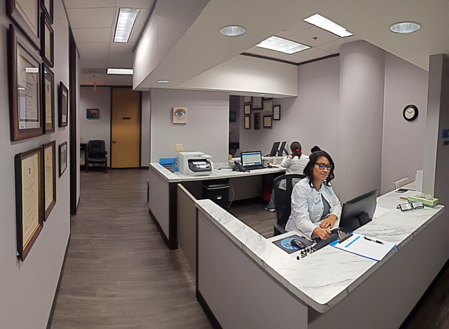 The receptionist will check you in when you arrive. Any copay or outstanding balance will be collected at that time as well.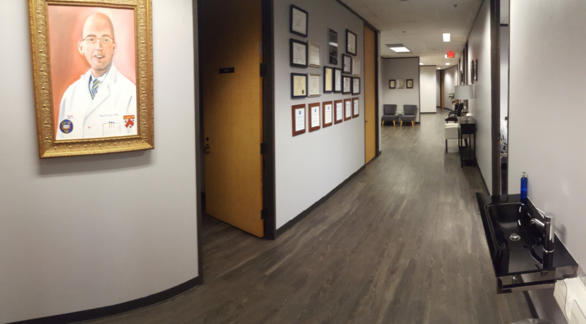 After the technician dilates your eyes and performs any necessary specialized testing you will be taken to one of the 2 examination lanes (doors to the right and left) where Dr. Carvounis will examine your eyes and discuss your diagnosis and treatment options.

Dr Carvounis will examine you in the examination lane, document the findings in the electronic medical record and then discuss with you the findings, the diagnosis and the treatment options. Intravitreal injections are done in the exam lane during the same visit (unless your insurance requires pre-authorization). LASERs can also be done in this lane. Pars plana vitrectomy or scleral buckling procedures are done at an ambulatory surgical center or hospital.